We're excited to announce that the official Tohoku Tomo DVD is now available! Bring home this moving documentary film that has been shared with audiences around the United States and Japan. Proceeds from the DVDs and general donations go towards future screenings, supporting Tohoku initiatives, and helping to offset production costs for Tohoku Tomo & the 113 Project.  Without your support, these projects would not be possible. Thank you!
---
Tohoku Tomo DVDs Sold Out!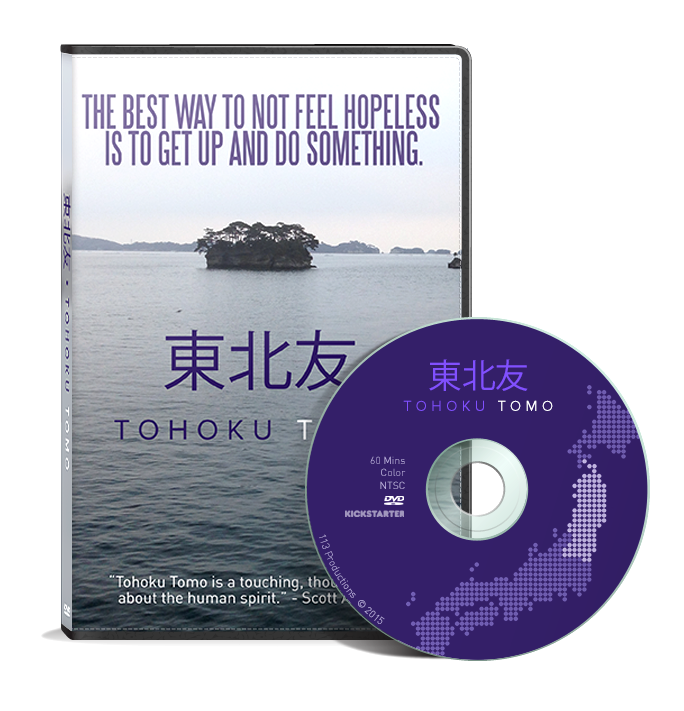 Thank you to everyone who helped support the initiatives of the Tohoku Tomo Team by purchasing DVDs. We are extremely thankful for the outpouring of support for the project and for the people of Tohoku. As the emotional and community recovery process is an ongoing initiative, we encourage everyone to continue learning more about the region and to plan a trip in order to personally experience the beauty and joy which Tohoku has to offer. You can view some of the short films we completed related to various aspects of Tohoku life here: www.113project.org
To host a screening, please send a request here.
---
Tohoku Tomo T-Shirts Sold Out!


Thank you to everyone who helped show your support of Tohoku Tomo by purchasing one of our  t-shirts! Created in partnership with our friends at SEER Outfitters, these shirts helped us spread the word about the film and raise awareness of the ongoing efforts to rebuild Tohoku.