Our team arrived safely in Tokyo yesterday afternoon, hit the ground running and have literally not stopped going since.
Once we arrived at the airport we swapped out SIM cards in our phones, got mobile wi-fi so we could stay connected and keep you updated, picked up our train passes, and exchanged currency. Then, we hopped a train to Ikebukuro.
We didn't miss a beat and quickly converted our hostel room into a makeshift studio so we could interview Wesley's friend Jane. Jane was a part of the JET Program from 2007-2011 in Ishinomaki and is presently a teacher in Tokyo. She volunteered with It's Not Just Mud in 2012 and has stayed connected to Tohoku.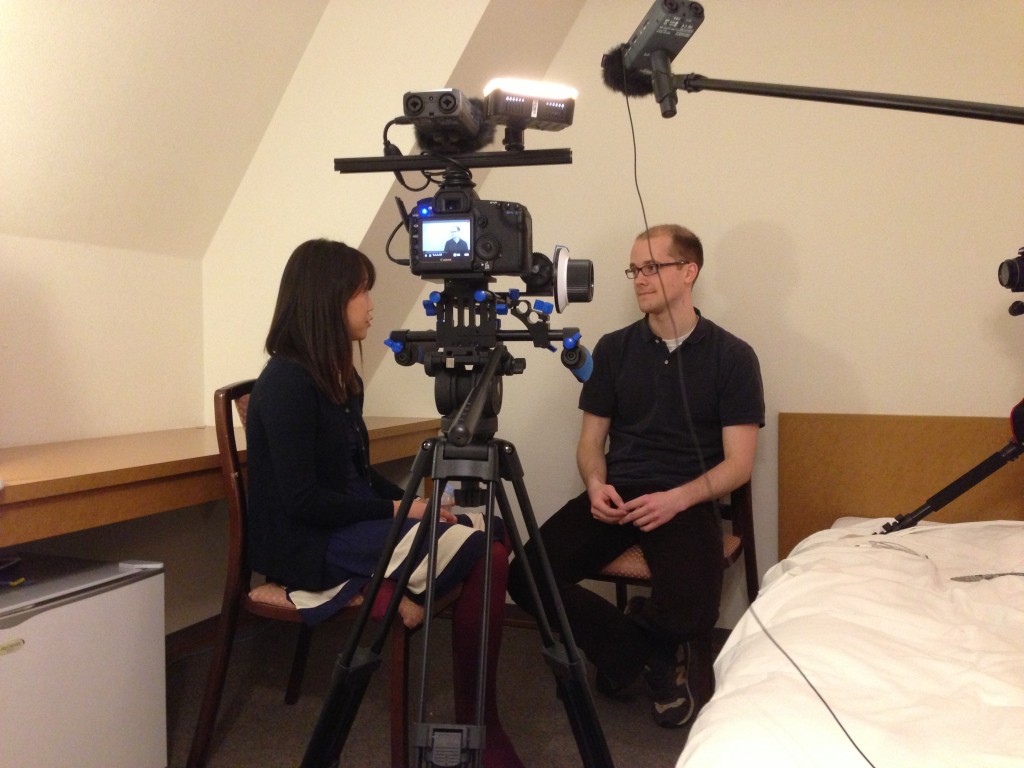 After a few hours of sleep we were up and running — and thankfully, experiencing no jet lag. We spent the morning running some errands and somehow befriended a Japanese television crew that interviewed us and proceeded to follow us while Tim and Phil were introduced to their first kaiten (conveyor belt) sushi experience. They loved it and for all we know, we may end up being television stars!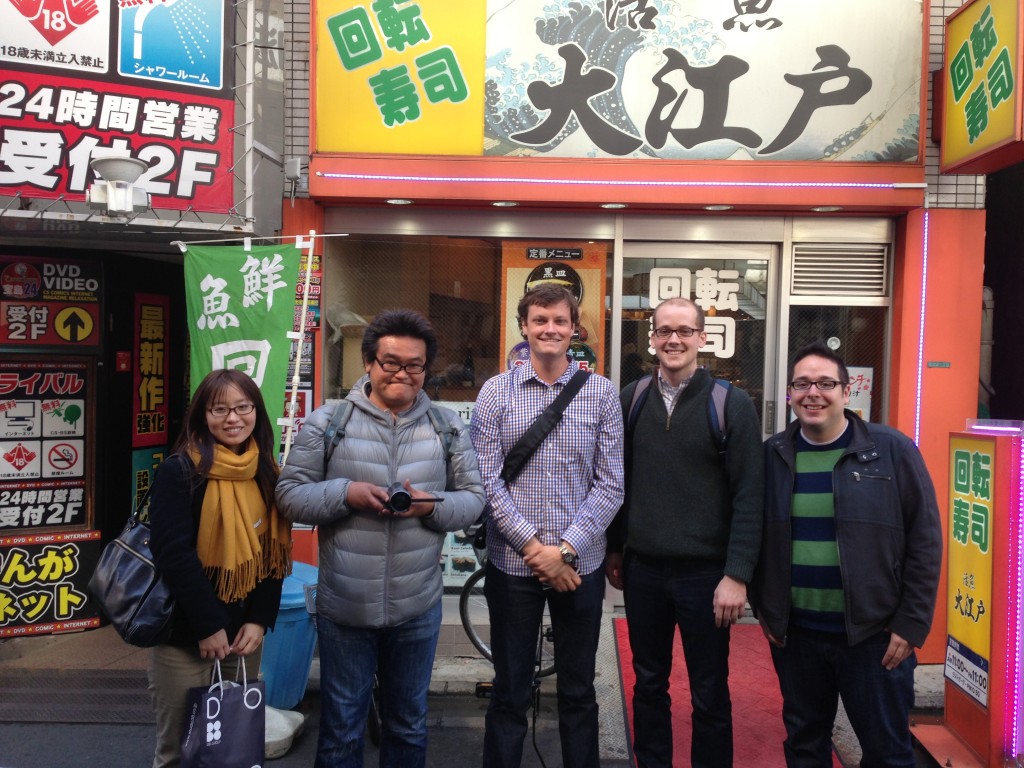 Cherry blossom season arrived in Tokyo earlier this year than normal so we were able to spend the afternoon in Uneo Park to see the sakura. It was breathtaking to see the beauty of nature and signs of new life blossoming before our eyes. Many people were enjoying bentos and beer under the shade of the fresh sakura blossoms.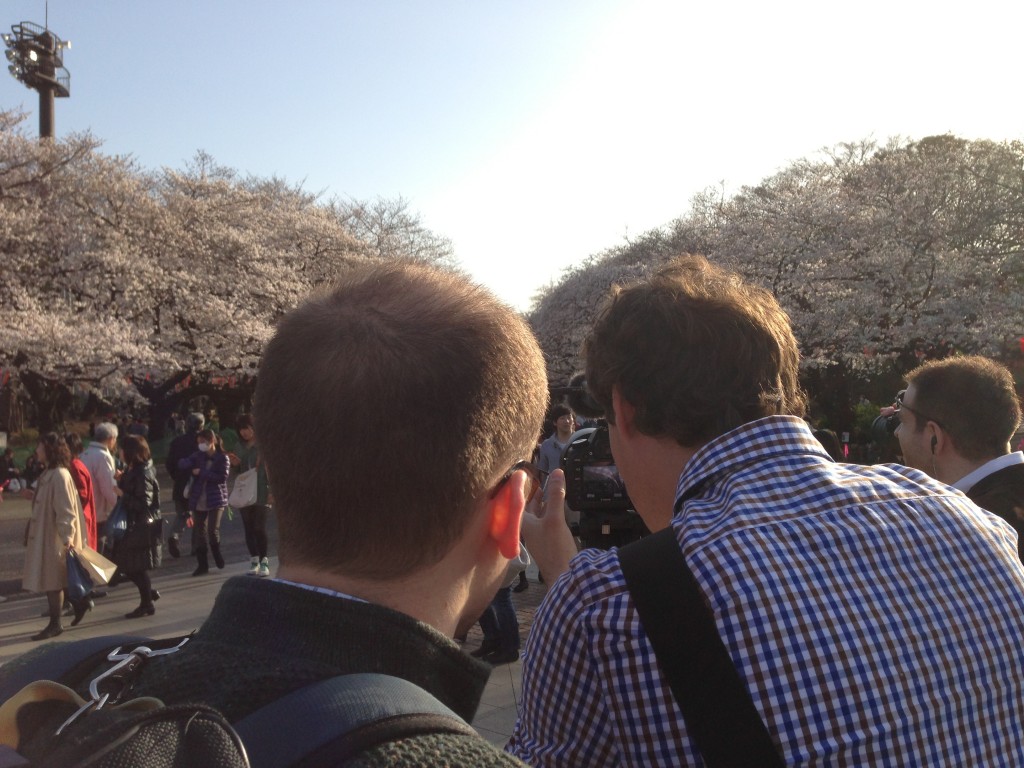 We then headed to meet with Wesley's friend Etsuko (@tokyofoodcast). They met while Wesley was volunteering with Peace Boat in Ishinomaki, Miyagi. They discussed her drive to volunteer and respond to the relief efforts following The Great East Japan Earthquake. They also talked about one thing Etsuko loves–sake–and the connection it has to the recovery in the Tohoku region — buy sake and help Japan! We were able to taste two types of sake from Miyagi and Fukushima that Etsuko recommended, and they definitely get our seal of approval!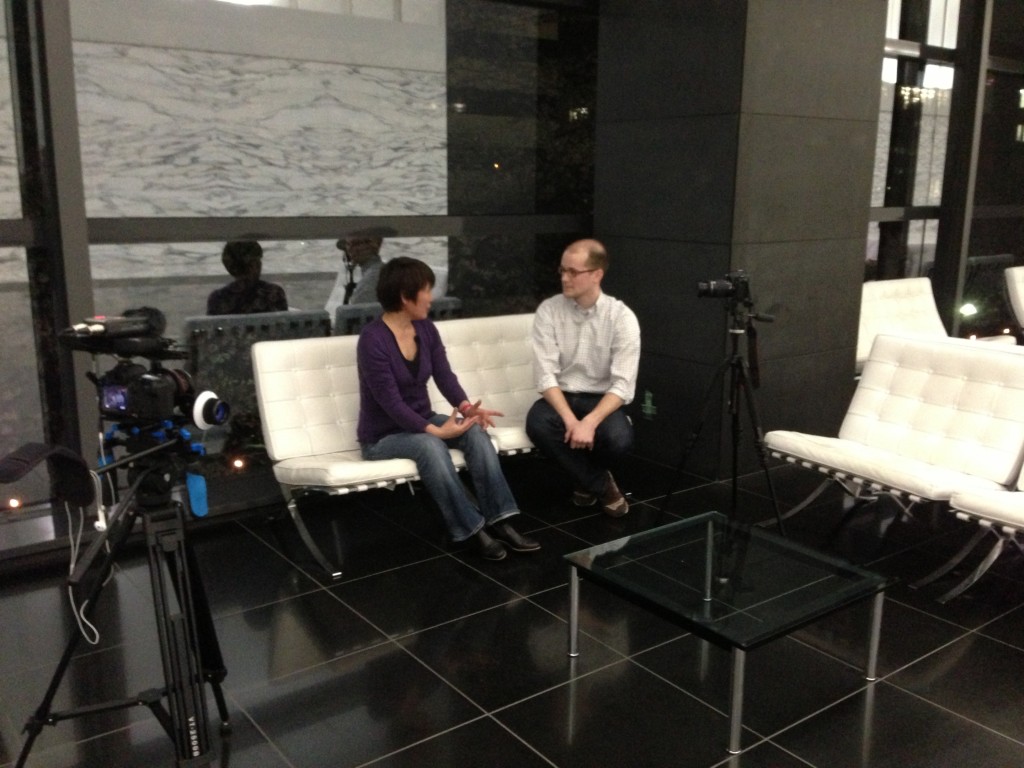 We ended our day interviewing Minami, who was one of the co-founders of Volunteer Akita. She shared the story of how Volunteer Akita was started and the ongoing work they are doing. It was a fascinating story to hear. It was also our first interview in Japanese, which was exciting and will bring a multilingual element to the film.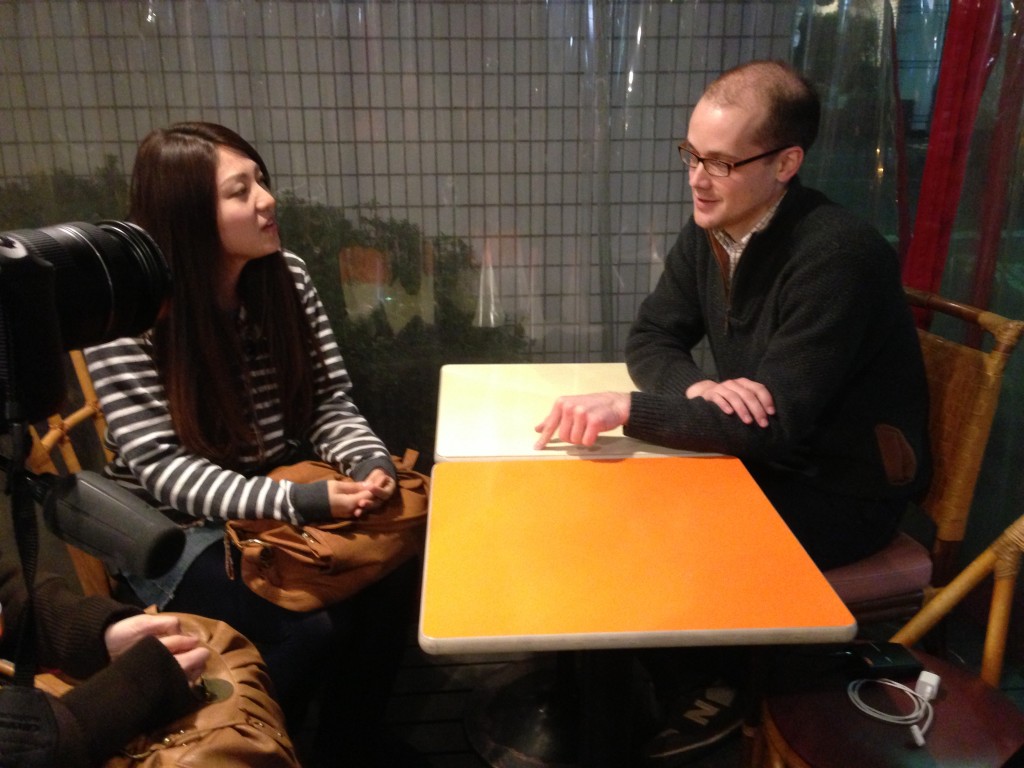 Tomorrow morning we'll have one last interview in Tokyo before we travel to Sendai in the afternoon. After setting up our homebase outside of the city in Rifu, we'll head to the It's Not Just Mud House in Ishinomaki where we will be spending the night and most of Saturday volunteering with seaweed farmers.
It's already been a full few days and we cannot thank everyone enough. Over 100 people have donated to this project and are making it possible for us to be here. We've already heard some incredible stories and cannot wait to share them with you. There's still time for you to help us spread the word about this project and help contribute so we can meet our working project cost of $10,000. Please share our Kickstarter page with your friends or anyone you know who has a connection to Japan. Together, we are Tohoku Tomo!